About us
Cleaning is something that every company needs to have sorted out. There are high demands on hygiene norms in many departments. And everyone knows, that cleanliness is the reflection of company's quality. And that is why we are here.
Our company specializes in providing cleaning services for medium-sized and big companies all across the Czech Republic. We leave it up to you, whether you want long term cooperation or if it's a one-time deal. Thanks to the efficiency of our mechanical cleaning technology we are able to solve even the problems you believed to be unsolvable.
Professionality and reliability
We are proud holders of ISO 9001 : 2008 a ISO 14001 : 2004 certificates since 2012, which is the best proof of how professional our cleaning services are.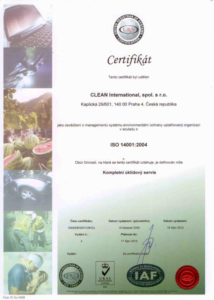 Professional approach since 1992
We first started by providing cleaning services in 1992. We have collected many valuable experiences ever since, allowing us to guarantee absolute professionalism to our customers. Big shopping centres, industrial buildings, administration buildings, schools and hospitals are among our clients.